Ongoing-Formation-Event in Vienna for Alumni working in Banking and Finance
From Friday evening, October 27, till Sunday noon, October 29, 2017, a weekend is planned in Vienna (Kardinal König Haus, Kardinal-König-Platz 3, 1130 Vienna) on the topic "Finance & Social Justice". Some 30 professionals from all over Europe will discuss topics of practical, scientific, ethical and spiritual interest regarding the meta-technical aspects of the practice of the banking and finance sector. The discussions will be preceded with an introduction by a professional and/or an academic.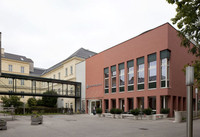 Although this event is primarily aimed at alumni/ae who are professionally active in the sectors of banking and finance, it is also open to non-alumni/ae with a similar professional background, who are interested in the topics that will be discussed and to students in disciplines that prepare for a professional activity in this sector.
The participation fee is limited to 150 € pp, including four meals (lunch on Saturday and Sunday and dinner on Friday and Saturday). Hotels and travel should be booked individually.
To get the program and inscription form for the "Finance & Social Justice Seminar" in Vienna, please contact the secretary of ECJA.
-