Download Registration Form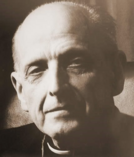 May 27, 2023 COMMEMORATION OF F. ARRUPE "EDUCATION FOR JUSTICE"
50 YEARS OF A HISTORICAL DISCOURSE
«Form men and women for others». It is one of the phrases that marked a turning point in the history of the Society of Jesus and served to update Ignatian spirituality.
These words were pronounced in the Schools of San José in Valencia, in the summer of 1973 by Fr. Pedro Arrupe sj, 28th General of the Jesuits, in the context of the X Congress of the European Confederation of Alumni of the Society of Jesus.
The Spanish Federation joint with European Confederation and World Union of Jesuit Alumni will commemorate in the San José Valencia Schools, the 50th anniversary of this speech into a meeting in which the consequences of that speech will be analyzed, the challenges posed, its development and what remains to be done.
Program of Acts:
9:45 Reception of attendees at the San José Schools
10.00 Prayer
10.15 Welcome and greeting from the authorities and Ptes. of the Associations.
10:35 Audiovisual on the person of Fr. Arrupe and his speech at the European
Congress of AA.AA. held in Valencia in 1973.
10:50 Recorded video testimonials from personalities
11:10 Rest- Coffee break 11:30 Main presentation
12:30 Questions and round table
14.00 Lunch at the San José Schools
Likewise, the annual Assemblies of the European Confederation and the Spanish Federation of Alumni will be held, with the following activities:
ASSEMBLY OF THE EUROPEAN FEDERATION OF AA.AA.
Friday May 26th
For delegates, accompanying persons and guests (optional)
16:30 Meeting with the others at the entrance of the Ilunion and Eurostars Hotels
16:45 Transfer by bus to Torres Serrano
17:00 Walk through the neighborhood of Carmen, the old town of Valencia, to
Saint Nicholas Church.
17:30 Visit Saint Nicholas Church-Museum. "The Valencian Sistine chapel"
18:30 Walk to the Company of Jesus Church.
18:45 Visit the church of the Company of Jesus.
19:30 Walk through the center of Valencia visiting places of interest:
Lonja de la Seda, Central Market, Plaza Redonda, Plaza de la Reina,
Museum of Ceramics, Church of San Juan de la Cruz, etc.
20:00 Dinner at Puerta del Mar Restaurant.
Calle dels Transits 4, 46002.
Saturday May 27
Morning: Attendance at the Commemoration Speech P. Arrupe.
16:00 Assembly of the European Confederation in the San José Schools.
19:30 Visit Arrupe Center (former San José School).
Gran Vía Fernando El Católico, 73.
20:00 Walk through the historic center of Valencia.
Departure from the Arrupe Center.
21.30 Dinner for delegates, accompanying persons and guests.
Mercantile Ateneo Restaurant. (Town Hall Square).
Sunday May 28
9:30 Mass at the Arrupe Center.
10:30 European confederation meeting
13:30 Lunch closing
End of the meeting